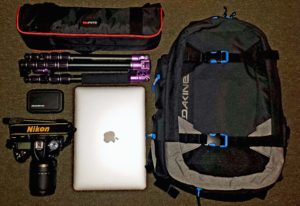 January 16, 2017
Recently I decided it was time to upgrade my camera. I'd been working with the same point and shoot camera for years and realized that if I really wanted totake my photography skills to the next level I would need to invest in some better gear.
I had my eye on the Nikon D7200 and had been holding out on purchasing it for financial reasons and because I wanted to be absolutely sure that it was truly the camera that I could grow into. Due to some changes in my personal situation I had come into the funds needed for purchasing my camera but I was still having a hard time making the commitment to go forward with the decision. Finally I made the jump and bought the Nikon D7200 along with two SD cards and a MeFOTO RoadTrip Tripod (in purple of course).
Once my new gear had arrived and I made sure that everything was working as it should, I knew that I would need to find something to transport it around in. I went to Henry's and ended up purchasing the Dakine Mission Photo 25L Backpack. It features a removable padded camera block, laptop sleeve and tripod carry system. It has lots of storage and allows me to travel with all my gear when hiking or spending time outdoors.
Lastly I wanted to purchase a laptop for mobility which would allow me to work not only more freely while at home but also give me the capability of editing and posting new content when shooting in the field. I had my eye on the newly released MacBook Pro but after doing some research and reading reviews I decided that I may want to go in another direction. I eventually went and looked at several different options available including the new Microsoft Surface Pro 4 and came the conclusion that I definitely wanted a MacBook Pro. After visiting the Apple store I purchased the 13 inch retina model of the MacBook Pro which contained all the features that I wanted.
Overall I am very happy with my purchases and I hope to get many years out of my new equipment. I know that making these investments will benefit me in the long term and fuel my passion for photography for many more years. I recommend if you are looking to upgrade your equipment, do lots of research and if possible, spend some time handling the gear to be sure that it is what you really want and that it will serve all of your needs. Something that I learned in doing my research was to invest in a good tripod. Instead of buying a cheaper one to start off with, it was recommended that you purchase a tripod that was of better quality.
It is also really important to invest in equipment that will achieve your photography goals. Do not base your purchase decisions on the latest trends or what other professionals may be using. Just because its popular right now does not mean that it is the equipment for you. Decide what you want from your equipment and set a budget for yourself.